David Gómez Cabrero 
Head of the TransBio Unit
David Gómez-Cabrero has a Ph.D. in Mathematics and extensive training in quantitative sciences (Bachelor of Mathematics, Bachelor of Science and Statistics, Third Cycle of Operational Research). During his first years in biomedical research, he studied two years in the Faculty of Medicine and participated in several research projects related to Computational Neuroscience. Since 2009, he has specialised in bioinformatics and data integration analysis, first as a post-doctorate and eventually as Assistant Professor at Karolinska Institutet (Sweden), and secondly as Senior Lecturer at King's College London (United Kingdom). He collaborates with clinical groups that investigate multiple sclerosis, rheumatoid arthritis, COPD and cancer among other diseases.
---
Núria Planell Picola
STATegRa manager
Núria Planell is from Sant Quirze del Vallés, Catalonia (Spain). She graduated in Biotechnology from the University of Vic in June 2008 and started her scientific career as a bioinformatician at the Inflammatory Bowel Disease team in the IDIBAPS-Hospital Clinic of Barcelona. In 2015 she obtained her MSc in Biostatistics and Bioinformatics from Polytechnic University of Catalonia (UPC-UB) and she got a PhD in Medicine and translational research from the University of Barcelona (UB) on July 2018, focused on the transcriptional analysis of Ulcerative Colitis. She recently was granted a "Juan de la Cierva" postdoctoral grant.
---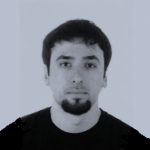 Xabier Martínez de Morentin Iribarren
Bioinformatics Technician & PhD student
Xabier Martinez de Morentin Iribarren is from Pamplona, Navarre (Spain). After graduating in Telecommunication Technologies Engineering from the Public University of Navarre, he started to work in the Proteomics group at the research centre Navarrabiomed. In 2015, he obtained an MSc in Biomedical Engineering from the University of Navarre, and in 2016 he joined the Bioinformatics Unit at Navarrabiomed. In 2017, Xabier became part of the Translational Bioinformatic group at this research centre, where he is now working on single-cell analysis techniques as part of his PhD. He recently completed a degree in Data Science Engineering and Big Data from Public University of Navarre.
---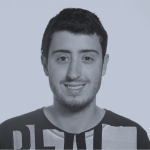 Alberto Maillo
Computer Scientist
Alberto Maillo, BSc Computer Engineering,  joined the Translational Bioinformatics Unit in June 2017 as a Computer Engineer to design and develop the database of NaGen 1000 genomes project. He is also responsible for managing other computational needs at the research group and works closely with researchers, clinicians and medical doctors involved in the Nagen project. During his BSc, he joined the Computational Sciences and Intelligent Systems group, working on prediction and classification algorithms. Alberto is highly interested in the application of computational techniques in biological and clinical data. 
---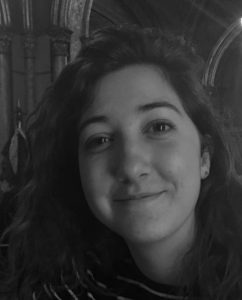 Sara Iglesias Rey
Researcher
Sara Iglesias Rey is from Marín, Galicia (Spain).She is graduated in Physics from the University of Santiago de Compostela (USC) in 2017 and got her MSc in Remote Sensing and GIS from the Public University of Navarre (UPNA) in 2018. During her stay in Pamplona, she joined the Artificial Intelligence and Approximate Reasoning Research Group (GIARA) with a university studentship. Currently, she  focus her work in processing neuronal imaging
---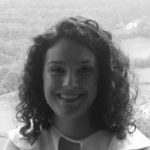 Miren Lasaga Goneyeche
Researcher
Miren Lasaga is a biomedical engineer and is currently completing a MSc in Health Sciences. I have started working as a researcher in the Bioinformatic Unit in NavarraBiomed as part of Sudo project ONCONET. Currently Miren is involved in several Translational Omics such as a Myeloma heterogeneity characterisation in mouse and single-cell transcriptomics and gene therapy-
---
VISITING MEMBERS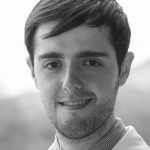 Goren Saenz de Pipaon
visiting PhD student
Goren Saenz de Pipaon joined the Translational Bioinformatics Unit during June 2018 in order to collaborate with the bioinformatic analysis of his PhD. After graduating in Bichemistry from the University of Navarra (2012-16), he obtained an MSc in Drug research, development and innovation (2016-17). Afterwards, he started his PhD at the Center for Applied Medical Research (CIMA, Pamplona) which deals with the development of new biomarkers for the peripheral arterial disease.
---
PAST MEMBERS (FULL or VISITING)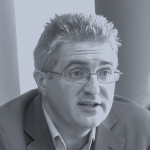 Alberto Labarga Gutiérrez
Senior Bioinformatician (on temporal leave)
Alberto Labarga is Senior Bioinformatician at Navarrabiomed. Coming from the field of telecommunication engineering, he started developing research in the field of biomedical engineering. Alberto has worked at TECNUN and at the European Bioinformatics Institute, where he led the Service Oriented Architecture strategy of the Institute, coordinating the development of a new data and services framework. He also has teaching experience at University of Navarra, Public University of Navarra and IE University. With an entrepreneur character and management skills, he also was Executive Director of several Spanish technology start-ups. Alberto has a major interest in the introduction of new software development methodologies (agile development, continuous integration) and open technologies.
---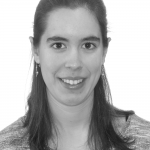 Arantxa Urdangarin Iztueta
Researcher, 2019-2020
Arantxa Urdangarin is graduated in Mathematics from the University of the Basque Country (EHU/UPV) in 2016 and in June of 2018 she obtained an MSc in Biostatistics from Polytechnic University of Catalonia and University of Barcelona (UPC-UB). During her last year of MSc she collaborated in the Sanitary Services investigation team of IMIM (lnstitut Hospital del Mar d'lnvestigacions Mediques). She recently joined the Bioinformatics Unit at Navarrabiomed to generate integrative (multi-omic) predictive modeling on different areas.
---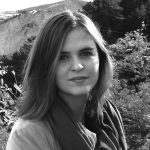 Raquel Ordoñez 
Visiting Postdoctoral researcher,  2019
Raquel Ordoñez is from Pamplona, Navarra (Spain). She graduated in Biochemistry at the University of Navarra (Unav) in June 2013 and started her scientific career as a MSc student at the Epigenetic Mechanisms of Cancer Unit from CIMA (Center for Applied Medical Research). In 2018 she got a PhD in Biomedical Research at the University of Navarra (Unav) in close collaboration with the Biomedical Epigenomics Unit from IDIBAPS (Barcelona, Spain), focused on the study of the chromatin regulatory network underlying aberrant cellular functions in multiple myeloma patients. In February 2019, she joined the Translational Bioinformatics Unit in order to collaborate with the computational analysis of her starting post-doctoral fellowship.
---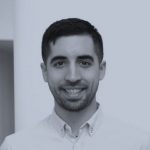 Rodrigo Bacigalupe
Postdoctoral Bioinformatics Researcher, 2017-2018
Rodrigo was part of the Translational Bioinformatics Group during  2017 and early 2018 as a bioinformatics researcher to work on microbiome bioinformatics, translational genomics of pathogens and human genomics (NaGen 1000 project). He graduated in Biology (Genetics and Microbiology) from the University of Salamanca in 2012. Following an MSc in Bioinformatics from the University of Edinburgh, he joined the Fitzgerald lab at The Roslin Institute where he did his PhD in population genomics of bacterial pathogen niche adaptation.
---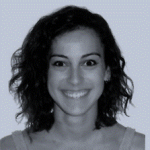 María Gallardo Gómez
visiting PhD Student , 2018
María Gallardo joined the Translational Bioinformatics Unit from January until April 2018, for a colaboration as part of her PhD. She graduated in Biotechnology from the University Pablo de Olavide (Seville) in 2014 and then she spent a year in Berlin, learning Bioinformatics at Freie Universität. After obtaining her MSc in Translational Medicine from University of Granada, she started her PhD at the University of Vigo in 2016, focused on liquid biopsy, aiming to discover non-invasive serum methylation biomarkers for the early detection of colorectal cancer.
---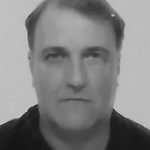 David Ovelleiro
Senior Bioinformatician, 2018-2019
David Ovelleiro is from Barcelona, Bsc in Biochemistry (UAB 2001), Msc in Analytical Chemistry (IUCT 2002), Msc in Translational Biomedical Research (UCO 2014) and PhD student in University of Jaen. With experience in Drug Discovery (Almirall), Proteomics Bioinformatics (Universitat Autònoma de Barcelona, EBI-EMBL) and Next Generation Sequencing (IMIBIC, CNAG) he is highly interested in translational research and improvement of health outcomes.
---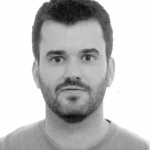 Leonardo De Maeztu Reinares
Software developer, 2018-2019
Leonardo De Maeztu Reinares is from Lodosa, Navarre (Spain). He obtained his BSc in Electronics Engineering (INPG 2006), BSc in Telecommunication Engineering (UPNA 2007), MSc in Communications (UPNA 2008) and PhD in Computer Vision (UPNA 2013). Since 2013, he has specialized in computer vision, machine learning and software development. He joined the Translational Bioinformatics Unit to collaborate in the development and integration of the Pharmanagen project infrastructure.
---